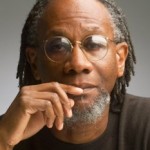 SPLAB welcomes legendary poet, essayist, novelist and editor Nathaniel Mackey to Columbia City for a reading tonight at 7:30 at SPLAB, 3651 S. Edmunds in the Cultural Corner of the former Columbia School.
Admission to the public reading is $5.
Poet and novelist Nathaniel Mackey was born in 1947 in Miami, Florida. He received a B.A. degree from Princeton University and a Ph.D. from Stanford University.
His books of poetry include Splay Anthem (New Directions, 2006), which won the 2006 National Book Award in Poetry; Whatsaid Serif (1998); Song of the Andoumboulou: 18-20 (1994); School of Udhra (1993); Outlantish (1992); Eroding Witness (1985), which was selected for the National Poetry Series; Septet for the End of Time (1983); and Four for Trane (1978).
He is also the author of an ongoing prose work, From A Broken Bottle Traces of Perfume Still Emanate, of which three volumes have been published: Atet A. D. (2001), Djbot Baghostus's Run (1993), and Bedouin Hornbook (1986).
The poet Robin Blaser has called Mackey's work "a brilliant renewal of and experiment with the language of our spiritual condition and a measure of what poetry gives in trust—'heart's/meat' and the rush of language to bear it.
Nate in conversation with Charles Bernstein.
Recordings of Nate reading his poetry.
Sponsored by 4Culture, Poets and Writers, CD Forum, The Seattle Office of Arts & Cultural Affairs, Island Soul Caribbean Restaurant, The Shirley Marvin Hotel, Richard Hugo House and WESTAF.
Podcast: Play in new window | Download (Duration: 29:39 — 27.1MB)
Subscribe: Apple Podcasts | Blubrry | RSS | More