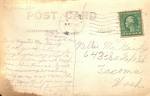 Join us Via Zoom, Saturday, June 19, 2021 at 10am PDT for a Poetry Postcard Fest orientation. If you have never participated before, here's your chance to see how it works. If you HAVE done the fest before, here is your chance to see some of the faces attached to the names you may have sent poems to on a postcard. Details:
Paul E Nelson is inviting you to a scheduled Zoom meeting.
Also at this meeting Paul will discuss the Fall workshop series, the followup to the very popular and well-regarded series on spontaneous composition. Some reviews:
Thanks so much for an engaging workshop – what fun! The best thing about it, to my mind, is your affirmative and humor-graced approach to all. You have a genius for getting people connected and encouraging their work…
— Margaret Lee, Tulsa, OK
Feb 2021 (Seriality: (A Workshop
Paul E. Nelson's "Poetics As Cosmology" course begins in a completely astounding way with a poem by Ed Dorn, "My Tribe." If that is not enough to stop you in your tracks, what follows provides inroads and out roads from this seed sprout, this shake down. While Dorn would be embarrassed to be an initiator of such weight of purpose, he would also be so honored by Nelson leading "Poetics As Cosmology" and its  poetic investigation via the stance of the Black Mountain School with his poem.
Nelson helps all attendees to explore the possibilities of language, and especially the long poem as an embodiment of instruction in one's own life. Course materials, discussions, and work-in-progress all contribute to a sense of participation in the mysteries of the creative process made real and "organic," to use Levertov's term. Knowing that Nelson's course is dispatched from deep in the Cascadia bio-region makes it even better. How wonderful it is to be a part of this.
– Susan Kay Anderson, Fall 2020 Poetics as Cosmology participant
See other testimonials at: https://paulenelson.com/testimonials/
2021 REGISTRATION DEADLINE IS JULY 18, 2021! Register now at: www.popo.submittable.com