Even though the clock is ticking down until next year's August Poetry Postcard Fest (Year Ten!), some folks have not fully completed their 2015 tasks, including the intrepid Judy Kleinberg. She just posted her 2015 wrapup: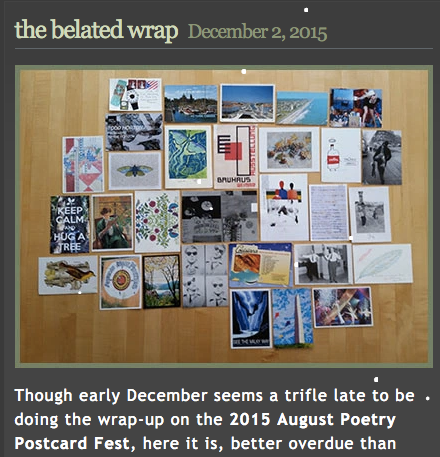 There will be a few tweaks to the fest in 2016, as we've done every year, but I hope you'll consider participating. My own fest summary is going slowly, as I do not want to overwhelm people with postcards, as I've done in the past. I am posting them on average one per week and you can see my cards (& that lovely R-rated motel photo) here:
https://paulenelson.com/august-poetry-postcard-fest-2015-afterword-2/
See you at the mailbox and thanks Judy!