From Josie Davis:
Fluff that Pillow … You're Invited!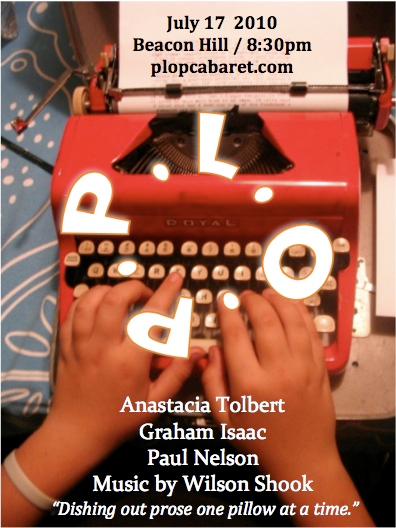 Pie & Wine on the House.
$10 General Seating
Tickets Online
Or Email us to RSVP
Limited Seating.  Limited Pie.
Reserve your slice today!
Anastacia Tolbert is a multifarious mix of grit, sunshine, alphabet juice & butterflies. She is a writer, performance artist, documentarian, teacher and workshop facilitator.
Graham Isaac is a writer who grew up in various parts of Northwestern Washington, getting his BA in Creative Writing from Western Washington University in Bellingham prior to spending two years in Wales, where he earned an MA in Media and Creative Writing. While in Wales he co-founded The Crunch, an open mic night for poetry and prose and partnered with the Southbank Centre and Dylan Thomas Centre on the Global Poetry System project and website. He currently lives and writes in Seattle, interns at ZAPP at Richard Hugo House. Poems of his have appeared in Jeopardy, Roundyhouse and other places.
Paul Nelson founded SPLAB, wrote Organic Poetry, A Time Before Slaughter, interviewed Allen Ginsberg, Michael McClure, Anne Waldman, Robin Blaser, Wanda Coleman, Eileen Myles & writes American Sentences daily.
Wilson Shook is an improvising saxophonist living in Seattle, Washington. Wilson's music emphasizes focus, texture, chance and exploration. Wilson currently performs solo, as well as with the Gust Burns Quartet, 'A Saxophone Quartet' (with Paul Hoskin, Kelvin Pittman and Tyler Wilcox), bst.cr (with Ben Bennett and Ryan Jewell) and in various ad hoc and piece-oriented collaborations. Wilson is the director of Gallery 1412, an artist collective and performance space, and is a member of the Seattle Improvised Music board of directors.
Visit Josephine to find out details on current music, literary and live performance events in your region. www.plopcabaret.com
See you on board,
Josie