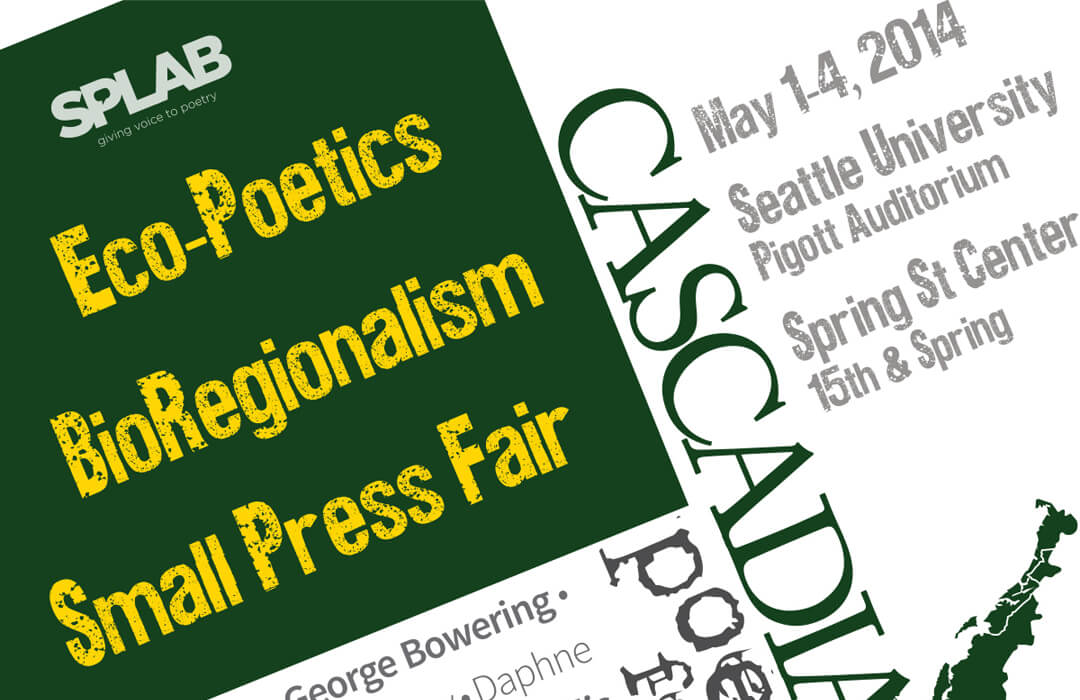 2014 Cascadia Poetry Festival 2 – SEATTLE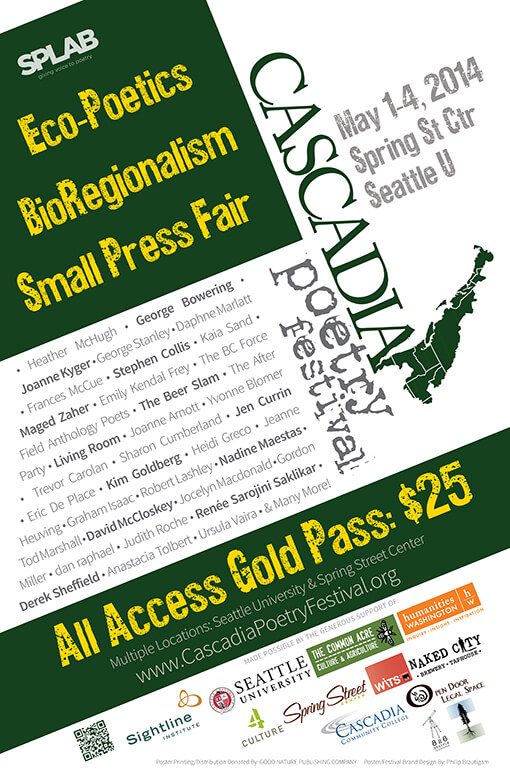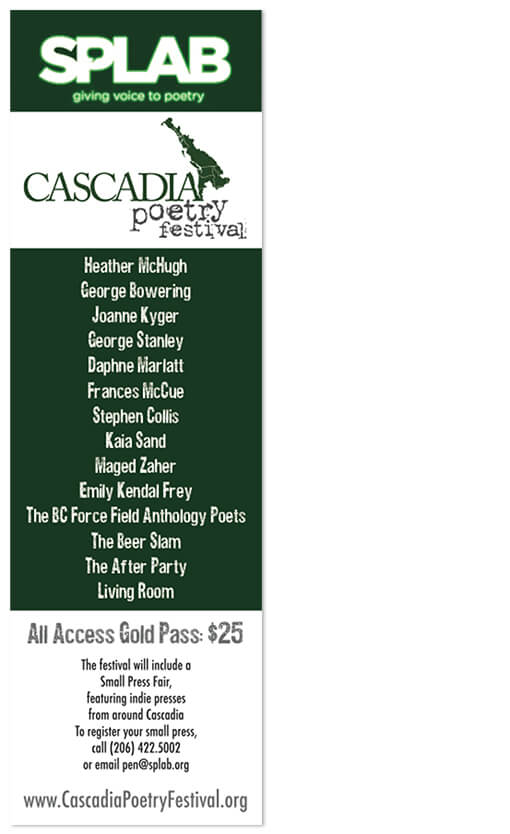 Cascadia Poetry Festival-Seattle 2014:
The second Cascadia Poetry Festival happened May 1-4, 2014, at Seattle University's Pigott Auditorium and Spring Street Center.
Thinking in terms of living in a bioregion is an extremely subversive act. Divisions between nations are inevitable and healthy. The First People of Cascadia surely had their boundaries, but they were never drawn with straight lines as the 49th parallel is, the line that separates Northern Cascadia from the South. This festival seeks to make natural boundaries more present in the minds of all people who live here, to understand how things could be in our world which faces so many changes, crises and challenges and to better understand the mores of the culture here that can be employed to address those challenges. This is part of what we mean by being dedicated to: "Bioregional Animation." From Cape Mendocino, CA to Icy Bay, AK and inland to the Continental Divide is how David McCloskey draws the lines and we're inspired by his work and method and welcome him to this festival.
The TISH poets of Vancouver, George Bowering among them, were some the best poets in the world and hardly known in Southern Cascadia. The influence that Jack Spicer, Robert Duncan and Robin Blaser had on the poetry of Vancouver is also a very important notion for those interested in the influential poetics of Cascadia. That Joanne Kyger and George Stanley were part of the Spicer Circle of late 50s San Francisco and the San Francisco Renaissance, helped guide their inclusion for this 2nd Cascadia Poetry Festival.
Vancouver, BC, was also the home of the 1963 Vancouver Poetry Conference, the first gathering that was based on the poetics of the New American Poetry, and perhaps the most important poetry conference ever held in Cascadia, so with this fest, we honor the poets just to our north and hope we can take what they have started and use it to guide our own artistic thrust as the world that we grew up in changes environmentally, economically and culturally.
The challenges of our time are intense (climate change, historically radical economic inequality and massive species extinction to name three) and it's the notion of those organizing this festival that the poets ought to be at the forefront of cultural awareness, activism and innovation. Our festival model features academic, democratic and performative segments, along with late night programming and a nod to innovators. We hope you find this deeper approach fun, informative and rewarding.