2015 Cascadia Poetry Festival 3 – NANAIMO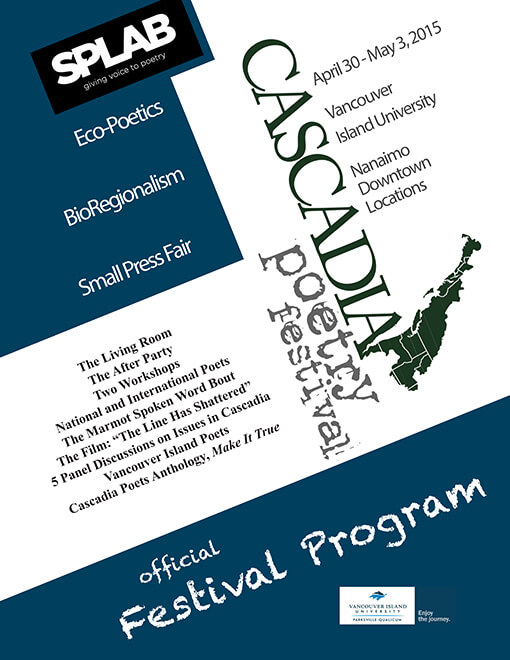 Cascadia Poetry Festival-Nanaimo 2015:
The 3rd Cascadia Poetry Festival happened April 30 – May 3, in Nanaimo, BC!
This one is unique, as it is being run under the auspices of the WordStorm Society of the Arts, and the tireless Local Organizing Committee based in Nanaimo and not SPLAB (Seattle Poetics LAB) as the first two were in 2012 and 2014. This is how community is created and this is exactly what grass roots organizing is, "natural and spontaneous" as stated in the Wikipedia definition.
Thinking in terms of living in a bioregion is an extremely subversive act. Divisions between nations are inevitable and healthy. The First People of Cascadia surely had their boundaries, but they were never drawn with straight lines. This festival seeks to make natural boundaries more present in the minds of all people who live here, to understand how things could be in our world which faces so many changes, crises and challenges and to better understand the mores of the culture here that can be employed to address those challenges.
The concept of bioregionalism is still woefully misunderstood. Bioregionalism is a reexamination of our own selves and the places in which we live in purely ecological terms, and the effort to harmonize human activities with the natural systems that sustain life. That this effort would disregard straight lines on a map suggests we take our cues from nature and not politics. In fact, when you do see straight lines on a map, that's a very good time to start asking questions. We hope everyone attending will do just that, to be ready when unsustainable and poorly designed systems begin to fail in their world, as they are already.