2016 Cascadia Poetry Festival 4 – Seattle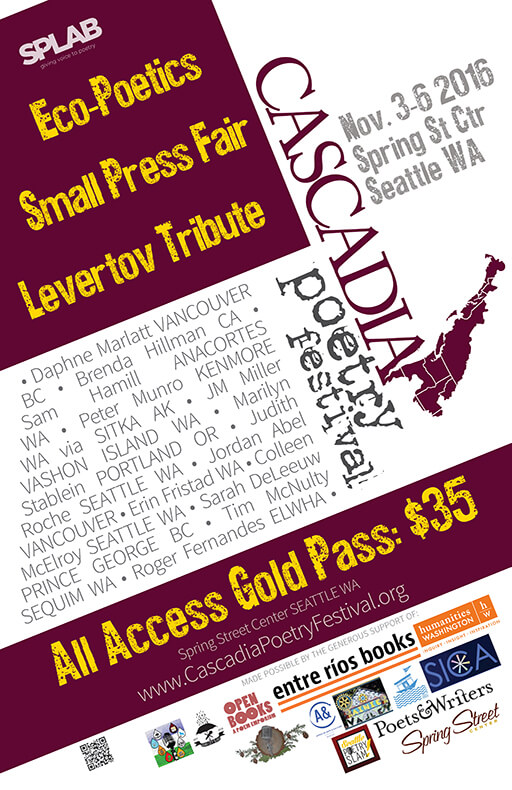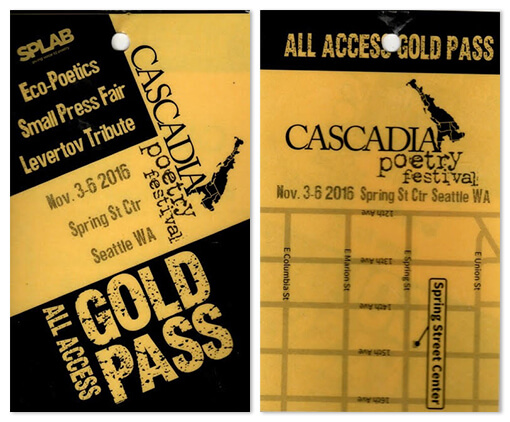 Cascadia Poetry Festival – Seattle 2016:
The 4th Cascadia Poetry Festival is happening through Sunday, Nov 6, 2016 in Seattle at the Spring Street Center, 1101 15th in Seattle, at the corner of 15th & Spring. The festival will honor the memory of Denise Levertov and there will be a ritual walk to her grave in the morning on Sunday, November 6 starting at 9am Pacific Standard Time.
Admission for single events is $10 at the door. Gold Passes for entry into all events is $35 and available at the door as well.
Sam Hamill, Jordan Abel and David McCloskey have canceled their appearances due to illness. The Cascadia Regional Poetry Slam has been shortened to ONE NIGHT, Saturday, nov 5 at Black & Tan, 5608 Rainier Av S., just north of Orcas.
This year's confirmed performers include: Daphne Marlatt, Brenda Hillman, Sam Hamill, Colleen McElroy, Marilyn Stablein, Judith Roche, Sarah DeLeeuw, JM Miller, Roger Fernandez, Tim McNulty, Erin Fristad, Jordan Abel, and Peter Munro.
Daphne Marlatt leads a workshop Poetic Habitat Now on Friday, November 4 at 9am. 
Marilyn Stablein facilitates a workshop Handmade Artist Books-Learn the Explosion Book & variations. No experience necessary. Also on Friday, November 4 at 9am. 
There will be a Poetry Slam as part of the fest, held at Black & Tan in Hillman City (5608 Rainier Ave South), Saturday, November 6.
The After Parties are late night readings mixing genres and allowing participants one poem each. These will occur on two nights, Friday and Saturday, and will be staged at Common AREA Maintenance, 2125 2nd Avenue in Seattle's Belltown neighborhood. Admission by Gold Pass or $10. Matthew Trease and Greg Bem are curators and hosts.
The closing reading of the event will feature Sam Hamill, Brenda Hillman, and Colleen McElroy and will be held at Open Books in Wallingford (2414 North 45th Street).
This event is supported by Cascadia Now!, 4Culture, Cascadia College and Poets & Writers.