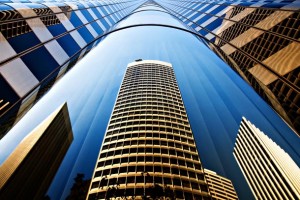 Since New Yorker Alex Bleecker won't be spending the holidays back home, he decided to bring New York to the Living Room.  This Tuesday, participants will engage in a brief, yet meaningful look at the first seven sections of the title poem of self-declared Objectivist poet George Oppen's Pulitzer Prize winning collection Of Being Numerous (1968), originally titled A Language of New York. (Don't worry – you won't have to have lived in an uber-metropolis to be able to contribute to the conversation.  Google images of contemporary Tokyo – you'll get a sense of it.)
We will examine "The sad marvels" of what it means to be a conscious, emotional human being engaged in defining the self in the midst of a modern, urban "city of the corporations" – a simultaneously dehumanizing and life-affirming space where "the emotions are engaged" even when "Glassed / In dreams / And images."  We will look at the text of the poem in addition to listening to a reading by Oppen himself.
And did we mention we'll be celebrating the holidays with our big raffle? You must be present to win awesome prizes from Columbia City Cinema, Island Soul, Full Tilt Ice Cream & More!
Living Room happens in the Cultural Corner of the old Columbia School, between Rainier AV S and 36th AV S, on Edmunds. We're 2 blocks from the Columbia City Link Light Rail Station. Parking is available on the school grounds. Suggested donation is $5 or more so we can keep the doors open.