On Wednesday, October 22, SPLAB made its maiden voyage to the waters of Garfield High School to present poetry and facilitate writing workshops for a few English classes.  Invited by Alan Kahn, a second year tenth grade English teacher from Columbia City who has a refreshingly comfortable, friendly rapport with his students, Paul and I were given complete freedom to fill three two-hour block classes with poetry however we saw fit.  No one involved, ourselves included, was left uninspired.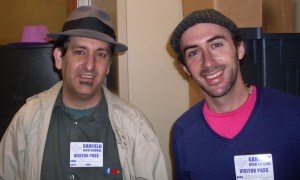 Upon arriving at Garfield, we were struck by the warm sense of community fostered by students and staff alike, despite the scale of the school.  With over 1,700 students, Garfield somehow manages to maintain the social atmosphere of a small school.  From the judgment-free manner with which students relate to one another, to the convivial rapport between teachers and students, we felt immediately welcome and appreciated for bringing poetry.
Alan's third floor classroom was built to be a lounge, with a wall of windows that faces directly into the second floor hallway.  Due to overcrowding, it has been designated classroom space, offering passers-by a literal window into learning.  We began each class with our customary introductory poetry bout.  Three students were chosen at random to be judges, and given both a white and a red flag.  Paul and I read a poem each, after which the judges were asked to show whose recitation they preferred by raising their white flags for Paul or their red flags for me.  Performances are always a safe, exciting way to begin a workshop session; they generate student interest in a risk-free format, giving listeners the opportunity to see something they will hopefully want to be part of.  It also offers facilitators the chance to demonstrate how stylistically elastic poetry can be, depending on the chosen poems.  We read Sharon Olds, Michael McClure, Diane Di Prima, Saul Williams, and Victor Hernandez Cruz, to name a few, as well as some original work.
Following each bout we divided the class randomly into two groups and formed the desks into workshop circles to have students do some writing.  Group exercises are a great way to ease into the writing process, especially for students who might feel pressured or self-conscious about creating something individually.  We began with a few Q&A exquisite corpse duo exercises, which I like to preface with some background about the French Surrealist poets' interest in tapping into the collective unconscious – that when "random" exercises produce something serendipitous, participants were thought to be "plugged in" to one another.  In the first exercise, one student posed a "Why" question for another student to answer without knowledge of the question…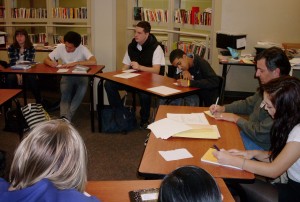 Why does lightening strike?  Because you cannot soar without wings.
Why doesn't the dryer dry my clothes?  Because I feed him too much.
Why do we exist?  Because colors reflect light.
Why do people think?  Because of the industry-generated culture eating away at our consciousness.
Why do people lie?  Because we all need someone to love.
Why do we ask questions?  Because that's just who we are.
After a few rounds of this, we introduced the individual writing assignment – to produce a poem, using the opening line or phrase from one of the pieces we had recited earlier as a prompt.  As a high school Poetry teacher for four years, I always found these to be crowd pleasers.  We selected general lines, so students could go in a variety of directions.  Choices included…
· "How do they do it, the ones who…" (from Sex Without Love by Sharon Olds)
· "I remember…" (from I Remember by Joe Brainiard)
· "Not a

[blank]

or a

[blank]

, I give you a…" (from Valentine by Carol Ann Duffy)
The sensitivity and maturity with which Alan's students wrote was impressive.  I'd also forgotten how willing young poets are to take emotional risks…
untitled
How do they do it, the ones who wake up
every morning with absolutely nothing?
They find shelter in small shacks malnourished
work in fields endlessly day to day
same routine yet
they are happy.  I know because I was there.
Olivia Dack, 15
untitled
I remember sleeping in the car on the
way to Saturday school listening to old Chinese songs.
I remember my best friend telling me
to hold my breath when I had a stomachache.
I remember running through the rain
to catch the bus.
I remember returning home
from graduation only to hear the
sad voice of my grandma telling me
my grandpa's going to die.
anonymous
Not What You Think
Not the answer to the math homework, or the
answer to the universe,
I give you a kaleidoscope.
Not a newspaper clipping or a thick dictionary,
I give you an old, stumpy pumpkin.
Not a fat mushroom or a leafy green,
I give you a lock.
Not a cozy blanket or a warm embrace,
I give you a key.
Christy Pham, 15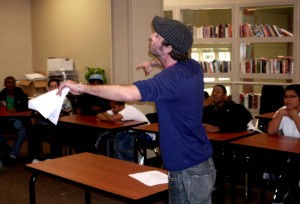 Students were given the chance to read their work within our small groups before reconvening for a whole class share-out.  As part of an upcoming class assignment, they are being asked to assemble anthologies of works of literature they admire, to present to the class.  At the end of each period, Alan encouraged further discussion of his students' poetry by announcing that they would be able to include one another's poems in their anthologies.  A good English teacher knows how to not only generate student buzz over literature, but how to sustain it.  Despite this being SPLAB's first time meeting Mr. Kahn's charismatic students, by the end of each class Paul and I felt like we had all been long-time workshop buddies, and are eagerly awaiting our next visit.