2015 Cascadia Poetry Festival 3 – NANAIMO WORKSHOPS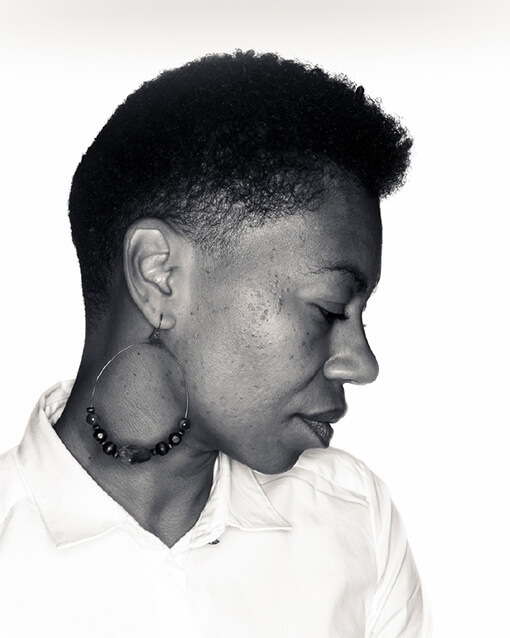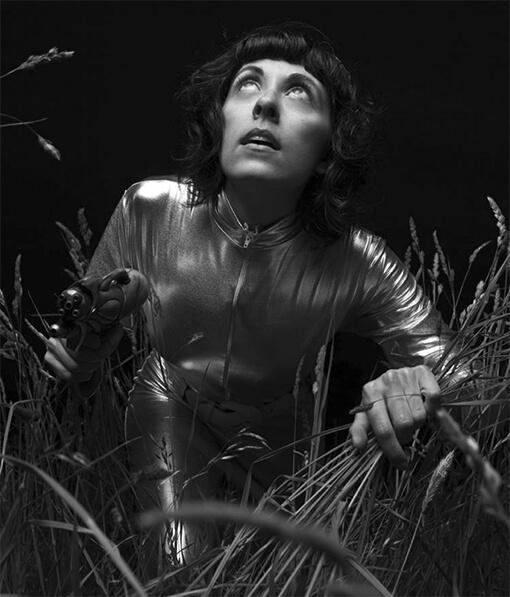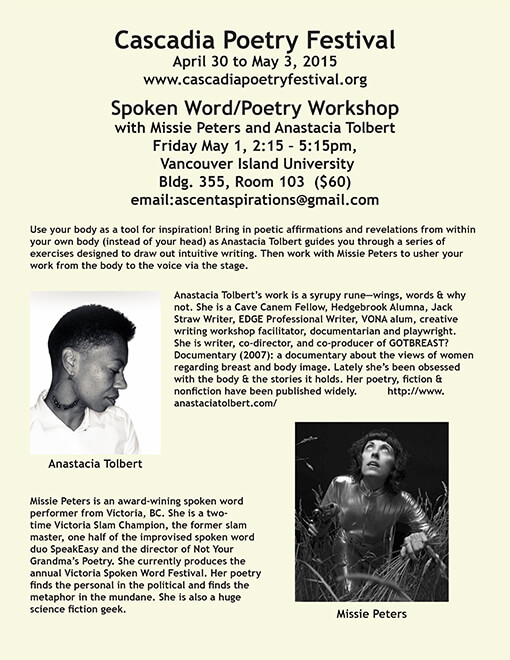 Spoken Word/Poetry Workshop
with Missie Peters and Anastacia Tolbert
Friday May 1, 2:15 – 5:15pm,
Vancouver Island University
Bldg. 355, Room 103 ($60)
email:ascentaspirations@gmail.com
Use your body as a tool for inspiration! Bring in poetic affirmations and revelations from within your own body (instead of your head) as Anastacia Tolbert guides you through a series of exercises designed to draw out intuitive writing. Then work with Missie Peters to usher your work from the body to the voice via the stage.
Anastacia Tolbert's work is a syrupy rune—wings, words & why not. She is a Cave Canem Fellow, Hedgebrook Alumna, Jack Straw Writer, EDGE Professional Writer, VONA alum, creative writing workshop facilitator, documentarian and playwright. She is writer, co-director, and co-producer of GOTBREAST? Documentary (2007): a documentary about the views of women regarding breast and body image. Lately she's been obsessed with the body & the stories it holds. Her poetry, fiction & nonfiction have been published widely. http://www.anastaciatolbert.com/
Missie Peters is an award-wining spoken word performer from Victoria, BC. She is a two-time Victoria Slam Champion, the former slam master, one half of the improvised spoken word duo SpeakEasy and the director of Not Your Grandma's Poetry. She currently produces the annual Victoria Spoken Word Festival. Her poetry finds the personal in the political and finds the metaphor in the mundane. She is also a huge science fiction geek.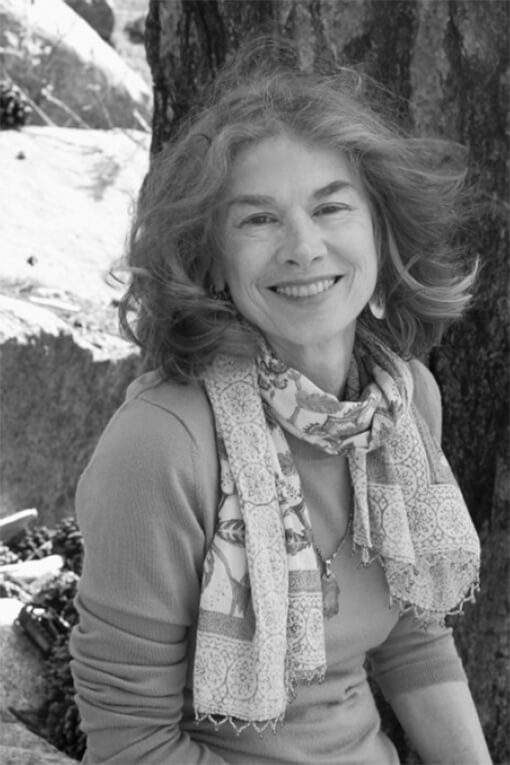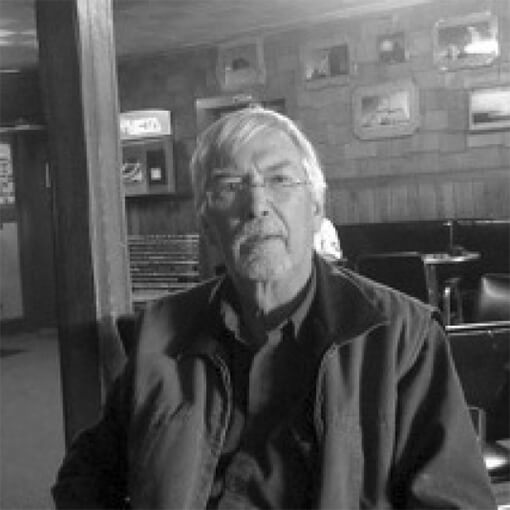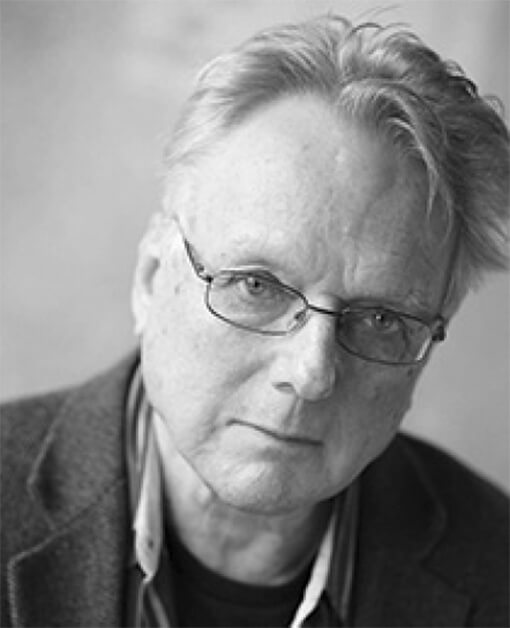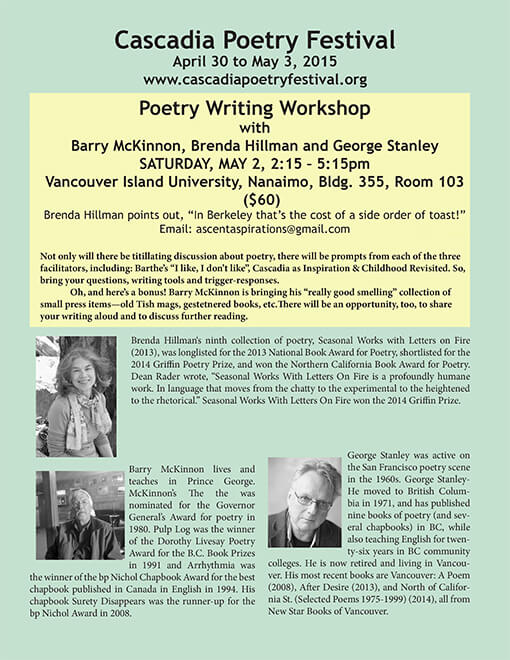 Poetry Writing Workshop
with Barry McKinnon, Brenda Hillman and George Stanley
SATURDAY, MAY 2, 2:15 – 5:15pm
Vancouver Island University, Nanaimo, Bldg. 355, Room 103
($60)
Brenda Hillman points out, "In Berkeley that's the cost of a side order of toast!"
Email: ascentaspirations@gmail.com
Not only will there be titillating discussion about poetry, there will be prompts from each of the three facilitators, including: Barthe's "I like, I don't like", Cascadia as Inspiration & Childhood Revisited. So, bring your questions, writing tools and trigger-responses.
Oh, and here's a bonus! Barry McKinnon is bringing his "really good smelling" collection of small press items—old Tish mags, gestetnered books, etc.There will be an opportunity, too, to share your writing aloud and to discuss further reading.
Brenda Hillman's ninth collection of poetry, Seasonal Works with Letters on Fire (2013), was longlisted for the 2013 National Book Award for Poetry, shortlisted for the 2014 Griffin Poetry Prize, and won the Northern California Book Award for Poetry. Dean Rader wrote, "Seasonal Works With Letters On Fire is a profoundly humane work. In language that moves from the chatty to the experimental to the heightened to the rhetorical." Season Works With Letters On Fire won the 2014 Griffin Prize.
Barry McKinnon lives and teaches in Prince George. McKinnon's The the was nominated for the Governor General's Award for poetry in 1980. Pulp Log was the winner of the Dorothy Livesay Poetry Award for the B.C. Book Prizes in 1991 and Arrhythmia was the winner of the bp Nichol Chapbook Award for the best chapbook published in Canada in English in 1994. His chapbook Surety Disappears was the runner-up for the bp Nichol Award in 2008.
George Stanley was active on the San Francisco poetry scene in the 1960s. George Stanley­He moved to British Colum­bia in 1971, and has published nine books of poetry (and sev­eral chapbooks) in BC, while also teaching English for twen­ty-six years in BC community colleges. He is now retired and living in Vancou­ver. His most recent books are Vancouver: A Poem (2008), After Desire (2013), and North of Califor­nia St. (Selected Poems 1975-1999) (2014), all from New Star Books of Vancouver.