2019 Cascadia Poetry Festival 6 – Anacortes SCHEDULE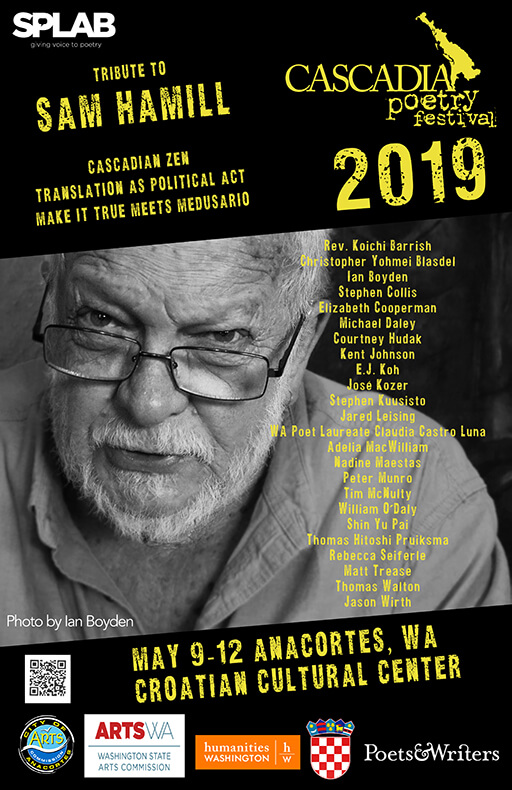 Cascadia Poetry Festival-Anacortes 2019:
A Tribute to Sam Hamill
The 6th Cascadia Poetry Festival happened May 9-12, 2019, in Anacortes, Washington! All events except workshops were staged at the Croatian Cultural Center, 801 5th Street in Anacortes. Gold Passes were $25 and admitted the holder to all events except Steve Kuusisto's master workshop. In addition to a tribute to Sam Hamill, poet, editor, translator and Co-Founder of Copper Canyon Press, there was the launch of two anthologies, one honoring Sam and one, a bilingual poetry anthology in Spanish and English, Make It True meets Medusario. Among the scheduled poets were José Kozer (winner of the 2013 Neruda Award from the Chilean government), Washington State Poet Laureate Claudia Castro Luna, Shin Yu Pai, Stephen Collis, Tim McNulty, William O'Daly, Stephen Kuusisto, Rebecca Seiferle, Ian Boyden, Elizabeth Cooperman, Thomas Walton, Nadine Maestas, Jared Leising, Thomas Hitoshi Pruiksma, Courtney Hudak and others. This fest was supported, in part, by a grant from ArtsWA (the Washington State Arts Commission), the City of Anacortes Tax Lodging Fund, Humanities Washington, Poets & Writers, the Fidalgo Culture Foundation, Copper Canyon Press and the Estate of Sam Hamill.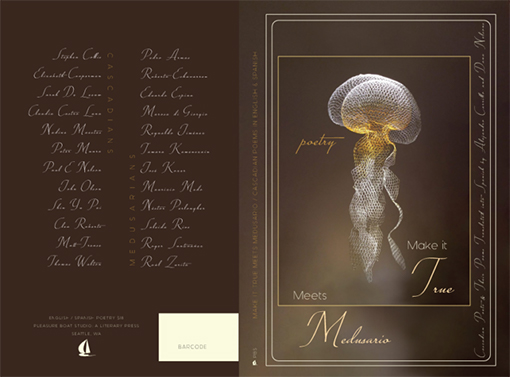 Make it True meets Medusario book cover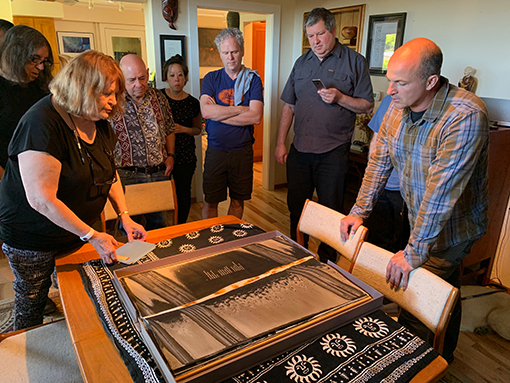 Ian Boyden showing the book he created for Sam Hamill, Habitation.
SCHEDULE (subject to change)
May 9 at 7pm – Thursday night's opening event will feature Shakuhachi Master and frequent collaborator with Sam Hamill, Christopher Yohmei Blasdel, who will perform in honor of Sam, as will longtime friends of Sam, poet and translator William O'Daly, Rebecca Seiferle and emcee Steven Kuusisto. There will also be a Zen invocation by Jason Tetsuzen Wirth.
Friday May 10
3-5pm – Living Room: an open and democratic reading where people read their original work in a circle. FREE
7pm – Launch of Make it True meets Medusario, an international bilingual (English & Spanish) poetry anthology, with readings by participants including José Kozer (Florida), Shin Yu Pai (Seattle), Claudia Castro Luna (Seattle), Stephen Collis (Delta, BC), Elizabeth Cooperman (Seattle) and others, hosted by Thomas Walton, anthology co-editor.José Kozer will be unable to participate due to health concerns.
9:30pm – Pleasure Boat Studios/Empty Bowl Showcase: Poets curated by Pleasure Boat Studios and Empty Bowl Press are featured in this late night reading, including Michael Daley, Alicia Hokanson, Ed Harkness and John Delaney. For PBS poet bios CLICK HERE.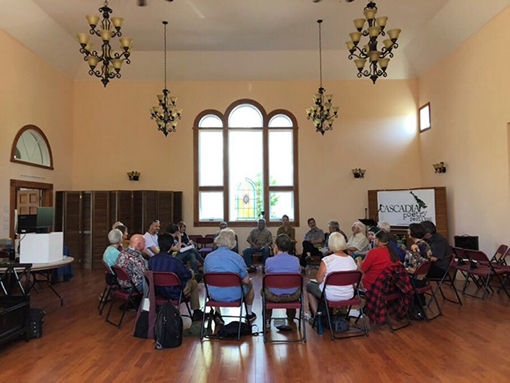 Poets gather in the Living Room to share their own work. (Photo by Lauren Grosskopf) Croatian Cultural Cener, Anacortes, WA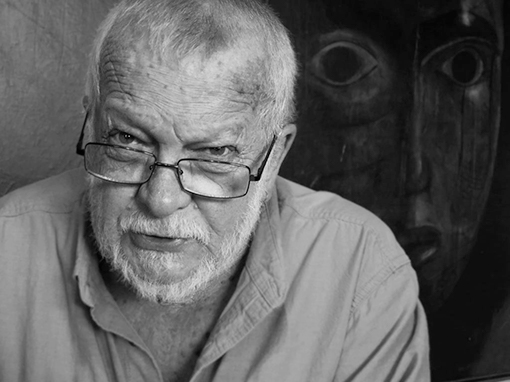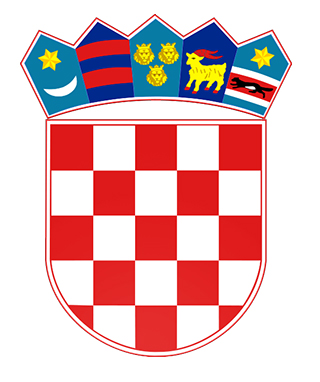 Croatian Cultural Center
801 5th Street, Anacortes
Saturday May 11
9am – Panel One – Cascadian Zen, facilitated by Dr. Jason Tetsuzen Wirth and Shin Yu Pai with Courtney Hudak and Thomas Hitoshi Pruiksma.
10:45am – Panel Two – Literary Translation as a Political Act: To Colonize or Recreate?
Literary translators do not simply translate the literal surface of a poem; they strive to embody the human experience—sensibility and sinew—of the original within the translation. To accomplish this, they must retain the integrity of their self-awareness, imagination, sensibility, and language as they actively lend those qualities to the original. This willful act of transmigration, including the host of choices translators must make, has political ramifications. The panel will explore how the translator can avoid colonizing the original poem in favor of recreating the fullest experience of it in a new body.
William O'Daly – Moderator, Ian Boyden, José Kozer, Claudia Castro Luna &
Rebecca Seiferle. José Kozer will be unable to participate due to health concerns.
3-5pm – Living Room: an open and democratic reading where people read their original work in a circle. FREE
7pm – Launch of Samthology: For Sam Hamill, with Stephen Kuusisto, Tim McNulty, Ian Boyden and others, hosted by Peter Munro.
9:30pm – After Party – Poets of a wide variety of genres reading ONE POEM EACH, hosted by Matt Trease.
Sunday – 9am – 12N workshops.
Workshop 1, 9am Sunday: Stephen Kuusisto, author of "Have Dog, Will Travel: A Poets Journey" will guide poets and prose writers on the techniques that help us write with clarity and honesty about animals. The aim is to avoid anthropomorphism and instead find ways to write with the real animal in mind. Cost $50. Limit 20 participants.
Workshop 2, 9-12N Sunday: Writing in the Woods. Tim McNulty and Bob Rose. Cost FREE to Gold Pass holders who are registered in advance. SOLD OUT.
Workshop 3, 9-12N Sunday: Becoming Cascadian: Imagination of the Senses. Nadine Maestas and Jared Leising host a workshop on the Washington State Ferry. This two-hour generative workshop will engage your imagination through a sensory experience of Cascadia while riding the ferry to Friday Harbor and back. Participants will meet at the Anacortes terminal and purchase a ferry ticket. The workshop is open to the first 30 Gold Pass Members who register.