2016 Cascadia Poetry Festival 4 – SEATTLE WORKSHOPS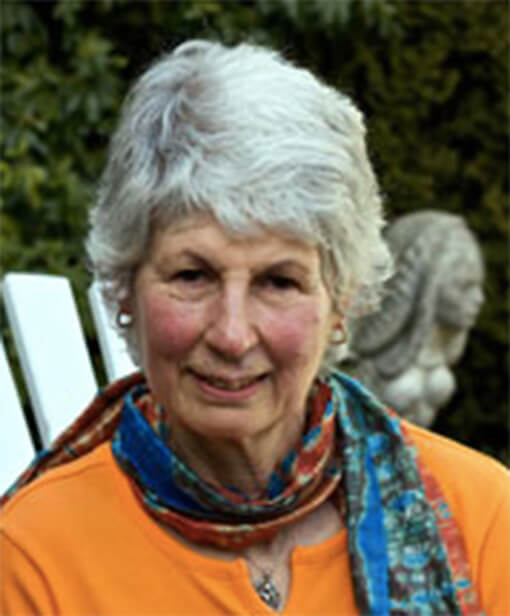 Daphne Marlatt Photo by Roy Miki
Poetic habitat now
Daphne Marlatt Workshop
Riffing off Berry's The Dream of the Earth published some 27 years ago but prescient to what is now occurring as we face climate change disasters of increasing scale created by our addiction to carbon, this workshop will investigate what his call for a "biocentric" vision to replace our dominant anthropocentric one might mean in poetry.  "Our challenge," he writes, "is to create a new language, even a new sense of what it is to be human." This challenge is a call for a radical shift in our attention, one that foregrounds our relations with other species and with the elements that make up our habitat, one that recognizes how interdependent, even coterminous we are with them.
What might a biocentric poem look and sound like? What would happen to a writer's subjectivity in such writing? How might what Denise Levertov calls "the poetry of linguistic impulse" enact the habitat of both poem and earth/world?  Bring a poem (in any form) you might have written in response to these open-ended questions.  We will explore what such questions and their concerns bring up in the process of writing.
Class is limited to 15 participants and up to two scholarships. Admission is $80.Friday, Nov 4, 2016
https://talonbooks.com/authors/daphne-marlatt
Facilitator: Daphne Marlatt
Daphne Marlatt was born in Melbourne in 1941 and spent much of her childhood in Malaysia before emigrating to Canada in 1951. Marlatt was at the centre of the West Coast poetry movement of the 1960s, studying at the University of British Columbia and with many of Donald Allen's New American Poets, most notably Robert Creeley and Robert Duncan. Much of her postmodernist writing would be attuned to the adjustments, struggles, and accomplishments of immigrants. While Marlatt attended UBC (1960–1964), her literary associations with the loosely affiliated Tish group encouraged her non-conformist approach to language and etymological explorations.
She was a co-founding editor of two literary magazines: periodics and Tessera. She co-edited West Coast Review, Island, Capilano Review, and TISH. In 2004 she was appointed as the first writer-in-residence at Simon Fraser University in three decades. She directed the Fiction stream of the Banff Writing Studio from 2010 – 2012.
Her early writing includes prose narratives on the Strathcona neighborhood of Vancouver and of the former Japanese-Canadian fishing village of Steveston, and several poetry books. Selected Writing: Network is a collection of her prose and poetry, published in 1980. More of her writing can be found in The New Long Poem Anthology: 2nd Edition (2000), edited by Sharon Thesen. Daphne Marlatt's This Tremor Love Is (2001) is a memory book – an album of love poems spanning twenty-five years, from her first writing of what was to become the opening section, A Lost Book, to later, more recent sequences.
Marlatt has been a featured poet on the Heart of a Poet series, produced in conjunction with Bravo! TV. Her recent work includes The Gull, the first Canadian play staged in the ancient, ritualized tradition of Japanese noh theatre, and winner of the prestigious 2008 Uchimura Naoya Prize.
In 2006, Marlatt was appointed to the Order of Canada in recognition of a lifetime of distinguished service to Canadian culture. In 2009, she was awarded the Dorothy Livesay Prize for Poetry, for her innovative long poem The Given, and in 2012 she received the George Woodcock Lifetime Achievement Award.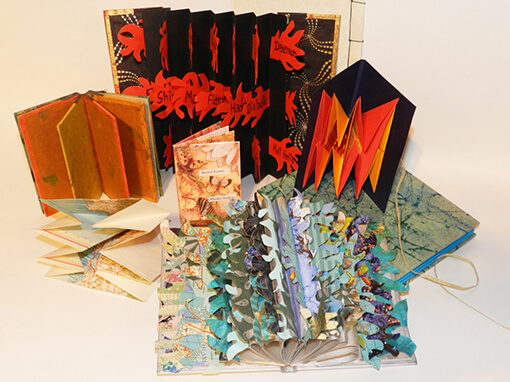 Handmade Artist Books Workshop by Marilyn Stablein
Handmade Artist Books Workshop by Marilyn Stablein
Handmade Artist Books-Learn the Explosion Book & variations. No experience necessary.
Changed to Friday Morning, November 4, 2016, 9a-12n. Limit: eight participants. Registration fee: $45. This workshop will be useful to writers, artists and anyone interested in discovering alternative ways to display work either in unique one-of-a-kind presentations or to consider ways to self publish small editions of their writing, art or a combination of both.  The workshop will begin with a presentation of three basic book structures that anyone can make.  We will then make the books and discuss optional ways to illustrate or insert personal memorabilia and/or written work.  Writing examples could be a poem, a favorite quotation, or an excerpt from a travel or nature journal.  Another option is to leave the books blank for future projects or to give as gifts.
The skills you learn—how to make an accordion book, a pamphlet stitched chapbook and a folded structure—will be useful in many other creative projects.
BIO:
Marilyn Stablein, poet and artist, exhibits her artist books in museums, libraries, and galleries in the US and abroad. Her work is included in Lark's 1000 Artist Books, Lark's 500 Artists Books and in magazines (Raven Chronicles, Rattle Magazine, Gargoyle, & Kyoto Review.)  A monograph Bind, Alter, Fold: Artist Books recently published by Book Arts Editions, was featured in the Vancouver Canada Sun, Guild of Bookworkers news and Bound and Lettered Magazine.  Her books include Sleeping in Caves: A Himalayan Memoir; a collection of environmental essays set in the Northwest, Climate of Extremes: Landscape and Imagination and Splitting Hard Ground which won the New Mexico Book Award and the National Federation of Press Women Book Award.   Visit: marilynstablein.com