99 Ways Into NZ Poetry (PDF)
99 Ways into New Zealand Poetry includes over 85 key poems from various New Zealand writers that demonstrate a significant way of understanding poetry and its history in New Zealand. The book looks at elements such as form, features and effects to understanding how
context and identity are expressed. It celebrates the diverse subject matter found within New Zealand poetry and how it can be read, written and brought to life.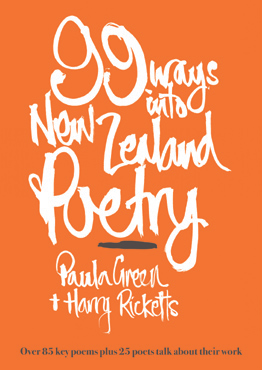 'This book is like a mosaic in that it is made up of many little pieces, each piece representing a way into thinking about a poem that is one part of the greater picture. It is also like a pond of stepping-stones in that each section aims to launch the reader into further reading and thinking.'
By breaking the book down into five key parts, Green and Ricketts, two of New Zealand's most distinguished poets, make the information accessible and readable to a wide range of audiences from reluctant school students
to veteran poetry enthusiasts. All types of poetry are included to be discussed and appreciated from Pasifika poems to children's poetry.
To further the reader's understanding, 25 poets provide insight into the inspiration, meanings and creative processes put into their poems. All differ significantly in their themes, styles, and functions, yet represent the
multitude of poetry within New Zealand.